The Jingle Dress Dance came to the powwow scene from the Great Lakes region in the 1920s. It is considered to be a medicine dance, bringing healing through the sound that is created by employing very elaborate footwork to make hundreds of tin cone jingles move in sync with the drum. The dance steps are controlled, often in a zigzag pattern reflecting the journey of life. Besides this traditional jingle step, the dancer can also move in a sliding side step. The feet often do parallel movements. She raises her fan on the honor beats of the drum, and must stop with both feet on the ground on the final beat. The dress itself is a cotton, velvet or leather-base dress decorated with 400-700 cone-shaped rolled snuff can lids, which hit each other at every move and create a pleasing "jingle." The jingles are attached by ribbon or fabric in rows or a pattern designed by the dancer. The outfit is completed by beaded moccasins and leggings, a beaded or concho belt, a beaded purse, and sometimes a vest or scarf.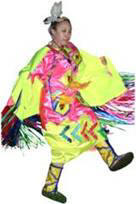 The Fancy Shawl dance is the women's category of modern competition style, characterized by vivid colors and lots of glitz, fast and acrobatic freestyle footwork, and a tremendous amount of twirling, spinning, and high kicks. It is also called the Butterfly dance, because it is said to represent the transition of a cocoon into a butterfly. The dancer wears beaded ankle moccasins with matching leggings, a calf-length flared skirt connected to a tank top or a separate blouse, and a beaded or sequined cape or vest. A yoke around the neck may be beaded, appliquéd or painted. Other variables include a choker or neckerchief and a leather or cloth belt. The most distinguishing element of this style is the shawl. It should span the dancer's arms from fingertip to fingertip, and should have fringes or ribbons hand-tied every quarter of an inch at the seam. The shawl is worn across the shoulders and held slightly out at the elbows.
As mentioned before, in Indiana, where the Native population is minimal, fairly spread out, and constantly fluctuating, powwows are mainly hobbyist events with minimal Indian participation. These types of powwows are really a subculture apart from the Indian powwow world. To most non-Indian participants, powwowing is the ultimate way of being Indian, whereas to Indians it is just one of many. Generally speaking, Indiana Indians are not nearly as anchored in their identity as most Indians in Oklahoma, so they appeal to images and styles that are immediately apparent for their Indianness and commonly understood and appreciated as Indian by both Indians and non-Indians. That is why you see so many Plains-style traditional dancers at these powwows: it is the ultimate symbol of the Indian warrior, and they might feel a sort of connection with the pan-Indian values it represents. However, no one ever goes to a powwow to confirm their identity as a pan-Indian. They might wear clothing that signals a generalized sense of Indianness to spectators, but in almost every case it is attached to a tribally specific sense of identity. The dancers' perceptions of powwow participation rules, the visual expressions of those rules, and the meanings they ascribe to powwow performances indicate this constructed image of themselves. Dress in general is used in many ways to communicate "who" people imagine themselves to be, but at Indiana powwows, aesthetic choices in dance clothes play a key part in establishing the credibility of their powwow identity.[11]
Let us now turn our attention to the specific characteristics of Indiana powwow dancers as they fit into the five categories introduced at the beginning of this article. Status Indians who attend Indiana powwows are usually locals who live in the area, or have traveled from neighboring states, often upon invitation by family or friends or the organizing committee. They come to the powwow to socialize, exhibit their skills of dancing, singing, or regalia making, or just listen to the drums. Their clothes often reflect a deep knowledge of the underlying contexts and meanings behind each element, demonstrated by a cohesive and unified composition (i.e., matching elements in style, color, and/or regional significance), identifiable cultural references (i.e., colors, patterns, or cuts representative of specific tribes), contemporary and fashion-conscious style (i.e., following the latest trends in powwow regalia), and excellent craftsmanship.
The second category comprises people who have Indian blood but have had little or no traditional upbringing because of adoption, relocation to urban areas, inter-racial marriages, or other factors.[12] Most of them consider themselves Indian, but do not qualify for tribal membership (i.e., not enough blood quantum, or no documentation for a lineal descent from a tribal member) and are thus non-status Indians. Some status Indians refer to them with the derogatory terms "apples" (i.e., red on the outside, white on the inside) or "born-again Indians." They attend powwows because it is usually their only connection to Indian culture, and especially because it is the place where they feel a sense of belonging, a sense of community with others who are in the same predicament. They have a somewhat limited contextual knowledge about what they are wearing and what it all means because they are still in the process of re-discovering and learning about their heritage. They really want to fit in, so their outfits show considerable effort but are often "not quite right," usually because of some mismatched elements.
The third type of dancers are the hobbyists, who have acquired a special knowledge of Indian traditions and practices through many years of involvement, often starting in the Boy Scouts, and progressing through several stages of improvement. Most hobbyists are master craftsmen, creating elaborate outfits with materials and techniques that are authentically Indian. The majority of them are good dancers in fine regalia, but you will also see clothes that are not very well made—on people who are still in the lower stages of the learning process. More importantly, though, hobbyists don't claim to be Indian—they only "play Indian"[13] for the enjoyment of the craftsmanship that goes along with being a dancer; or vice versa, they dance to showcase their craftsmanship. Their commitment to proper representation through their clothes usually results in outfits that are usually well made, geographically and historically accurate, but also often quite anachronistic in terms of modern powwow standards, since "old-time" (pre-1930) outfits are generally preferred over "modern" (post-1930) outfits by most hobbyists. In fact, one of the ways to tell hobbyists from Indians is a "too perfect," extravagantly expensive but often outdated outfit.[14]
The fourth category belongs to historical reenactors, including buckskinners, mountain men, muzzleloaders, and trekkers, all of whom reenact different aspects of the past. Most reenactors are non-Indians, but there are also many Indians who enjoy reenacting. To them, reenacting is re-living history, while a powwow is "just cutting loose,"[15] but also a spiritual adventure. Most reenactors only attend reenactment events (or rendezvous), but some do powwow. Many of them are more hardcore than hobbyists—they will shave their head and tattoo and pierce themselves according to the fashions of the time period they represent. Because they portray a specific persona from a specific geographic location in a specific moment in time, they can only wear clothes and use materials that would have been realistically available to their persona in terms of time, location, and social status. Their clothes tend to be replicas of outfits found in history books and museums, although not necessarily of the same quality workmanship. Their main concern is with representing history authentically. They believe that when they put on their historic garb and present themselves to their peers and the public, they have to be telling the visual truth. They are attracted to this hobby out of a love for history and a fascination with the lives of those before us, and feel that they owe those very same people the minimum respect of not lying about them, visually or verbally.[16]
Finally, in the last fifteen years a fifth type of constituency emerged at these powwows that separates itself from Indians, hobbyists and reenactors through its clothing and dancing style as well as its interactions with other dancers. It comprises a wide spectrum of people, and many different terms exist to refer to them, from the benevolent "Indian Heart" (i.e., the reverse of an "apple") to the offensive "truckstop wannabe." (Because of their offensive nature, none of these terms are used in face-to-face interaction with members of this category, and of course no one ever identifies as a "wannabe.") Some of them claim to have Indian blood but have no documented basis for that claim, no traditional Indian knowledge, and not much interest in a deeper understanding of their assumed identity. Others are just drawn to the "exotic" nature of an Indian dance, which they have idealized as an integral part of a nature religion. Dancing and Indian crafts are not necessarily part of their everyday experience, and they tend to relate to them strictly from the spiritual perspective. When they dance, they pay little or no attention to other dancers in the arena, or to what type of dance is taking place, but rather dance to their own rhythm, in a free-form, improvised, emoting style. Or they try too hard to replicate Indian dances, resulting in exaggerated movements and expressions that come off as disrespectful, because it is hard for a spectator to tell imitation from mocking. Nonetheless, they feel an entitlement to participation based on either incorrectly invoked political rights,[17] or spiritual beliefs (such as "I was an Indian in a past life"). Most are tolerated at powwows as long as they are willing to follow powwow protocol. However, sometimes tensions are caused by their arrogance and self-absorption that keeps them from realizing that their "mimicking" is preposterous and often insulting to Indians. Looking for their roots, most have good intentions, but by picking and choosing components of "nativeness" according to their own needs, they pose a threat of misuse, misinterpretation, and adulteration of Indian traditions.[18] For this constituency, clothes are the only marker of their identity, and they try to create their Indian identity through their dance clothes, using them to legitimize their Indianness. Because they are not anchored in any specific Native culture or tradition, and most of them are in the very beginning stages of their quest for their (real or imagined) Native heritage, their outfits reflect what some Indians call the "Heinz 57" approach: take anything that looks Indian, mix it with anything that comes from nature and can be instilled with spiritual meanings, and voilá, an "Oh My Gosh" outfit![19]
Nonetheless, there are degrees of effort even within this category. Some people are sincere about their quest and dancing, and are only limited by their access to quality resources needed to create a good outfit. But they will at least make their outfits out of leather, even if not necessarily of the best quality buckskin. Numerous people, however, show up at powwows in clothes that are not only incorrectly interpreted in style, but also poorly made and, above all, made of imitation materials like polyester. It is not too hard to see the resemblance between their outfits and those of the dolls found at many truckstops along U.S. highways (thus the name "truckstop wannabe"), most of which are stereotypical, highly romanticized creations of fantasy rather than reality.[20]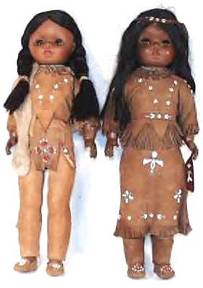 CONCLUSION
Most of the categories listed in this article are very fluid. An "Indian heart" can in time learn enough to become a hobbyist or a reenactor. A reenactor can find his or her Indian roots through genealogical research, establish legitimate connections with an Indian community, and become a non-status Indian. Even dance clothes themselves are not an unambiguous indicator of identity, since outfits are in a constant flux, in a never-ending process of improvement. But knowing about the categories and their characteristics may help one understand the powwow as a means of public education as well as an arena for individual expressions of identity, creativity, and cultural pride. More importantly, in order to avoid misinformation of the general public, of spectators who might be seeing Indian culture for the first and last time at a powwow, it is every dancer's responsibility to represent that culture correctly.
Non-Indian presence at powwows is a very touchy issue for many, and there is perceptible prejudice against non-Indian dancers, rooted in the long-standing practice of appropriation of Native practices for individual gain. The main concern is that those who are only getting involved in powwows because of a fashion trend or because they hope to gain some kind of an image or status through it will not spend enough time and energy to learn about the real meanings behind powwow dancing. As in most cases, though, there are two sides to be considered. On the one hand, there is the Native peoples' concern about misrepresentation of their culture and values by people who do not have the right education about or understanding of those values. When you put on Indian clothes and enter the dance arena, you are representing a Native cultural practice, and undiscerning spectators could easily assume that what they are seeing is the right (or only) way to be Indian.
On the other hand, those who are genuinely interested and invested in powwowing do it because they see a real value in preserving these traditions and practices for future generations, and they should be accepted and encouraged to learn from people who can teach them things correctly and without bias. Whether you are dark or light, full-blooded or multi-racial, it is the values according to which you live your everyday life and which you share with others around you that give you a sense of belonging. And what better place to share those values than the symbolic circle of the powwow arena where young and old, Indian and non-Indian alike can come together in joyful celebration of traditions that have sustained generations of Native people through centuries of hardship. "Indian people are like a patchwork quilt—warm and colorful," said a dancer at the 2004 Miami powwow. "Sharing that warmth with people around you can only make the rest of the world warmer, too."